Fashion Dads on Instagram
Here's a funny and crazy Instagram account to follow:  Fashion Dads. Created by Travis May and Ashley Hesseltine, Fashion Dads portrays the everyday haute couture of real dads in all their wardrobe glory. It's offbeat. It's real. Also, Travis and Ashley's description of these daddy wardrobe disasters written in true fashion magazine style is downright hilarious.
Most of all, users can submit photos of their own dear dad or a friend's pop, or any unwitting father on the street you stumble across. Enjoy the fine samples below.
#FirstDayOfFallFashion! I know you guys have been dying to know how I transition my sassy summer pieces into the new season and I am here to share my #StyleSecrets! First of all, mixing colorful prints is THE trend for fall 2016, straight off all the runways. Secondly, you CAN wear swim trunks in any season as long as you style them correctly. Today I have paired a lime green abstract /react-text #Quiksilver swim trunk with a bold button-down from the #DrSuessForDillards couture collection. Don't you love the way the colors complement each other?? I made this ensemble fall weather-ready with an #OldNavy performance zip-up and completed the look with a practical but chic royal blue #NewBalance sneaker. I am so ready to show out this fall!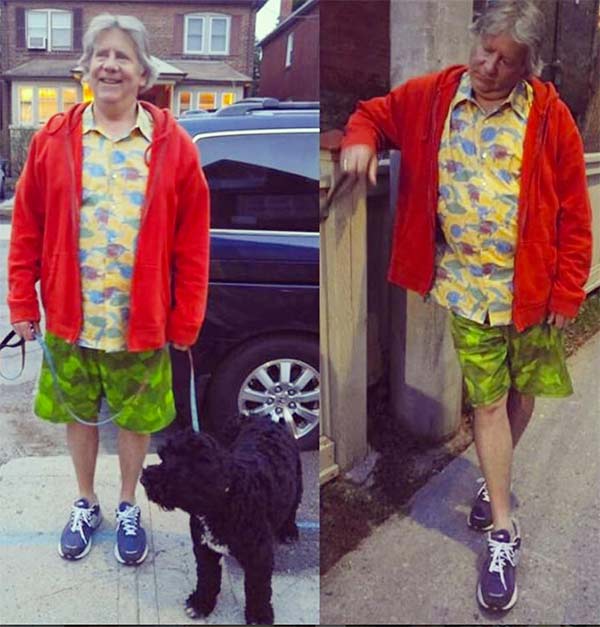 I know you #fashionistas have heard about @beyonce new #activewear line #IvyPark and I am SO humbled she sent me some samples to try out before the big launch! These compression leggings are so #chic and flattering, and the #PufferZipUp is TO DIE FOR. She hasn't introduced #footwear yet, so in the meantime, I'm wearing a pair of vintage #Adidads trainers to complete this stylish ensemble. I absolutely LOVE #athleisure looks because I can go to my #barre then step straight out on the town without missing a beat!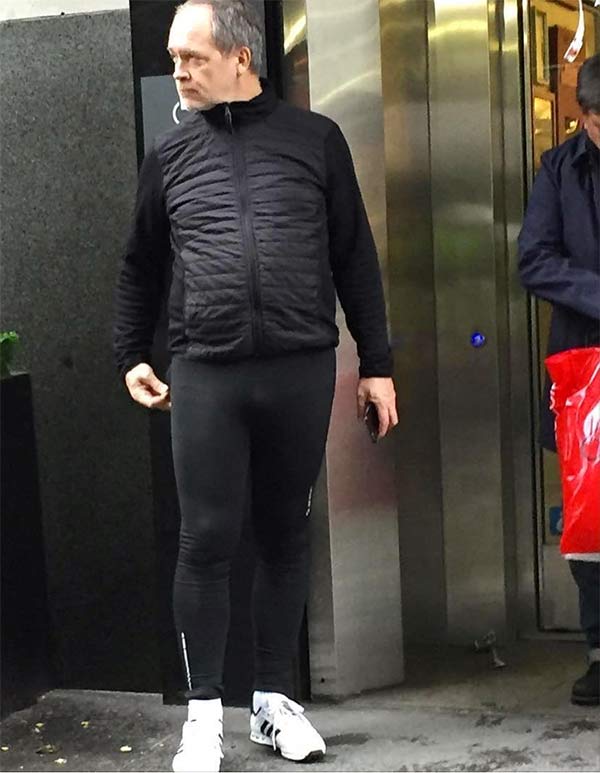 Hello, #ClemsonTiger fans!! I stepped out in a chic #Gameday outfit for yesterday's win against #FSU and I can't help but wonder if I was the good luck charm! For this look, I paired a #TeamPolo from the #FendiFootball collection with a classic pair of royal blue #SwishPants, which I hiked up just enough to show off my #Balmain boots and white tube socks. I topped off the look with #Columbia #BucketHat (they are back!) and accessorized with a contrasting koozie and vintage #Timex. GO, TEAM!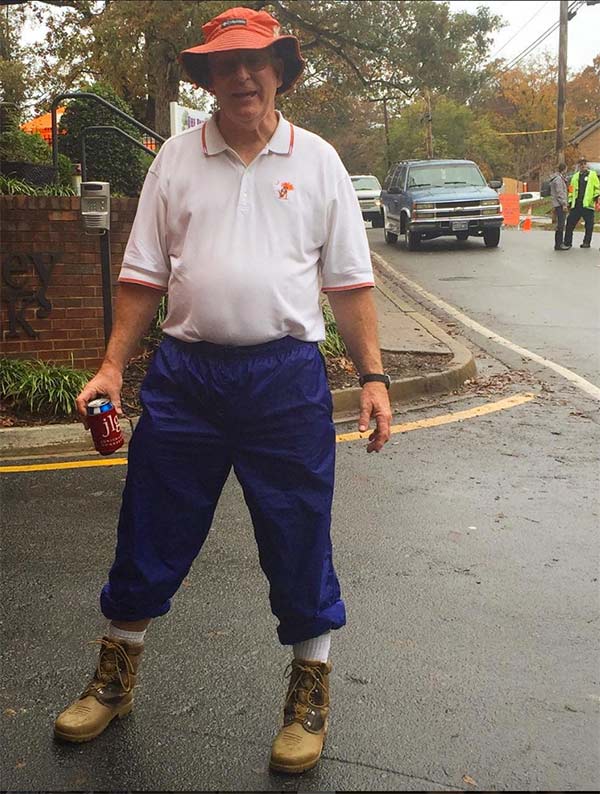 Today's look is all about staying fit and dressing for your body! I went out cycling in this perfectly color-coordinated ensemble — black Lycra shorts from the #SpanxForSears collection to show off my long, shapely legs paired with my fave "well rounded" pizza tee (you have to keep a sense of humor on the streets). I added some #AmericanFlair with a couture flag #FannyPack and matching ball cap. YAY USA! When I take off my cycling shoes, I love to slip into my vintage #Brooks sneakers with a casual #Adidas sports sock to grab a quick bite to eat. Happy weekend, everyone! #EmbraceYourShape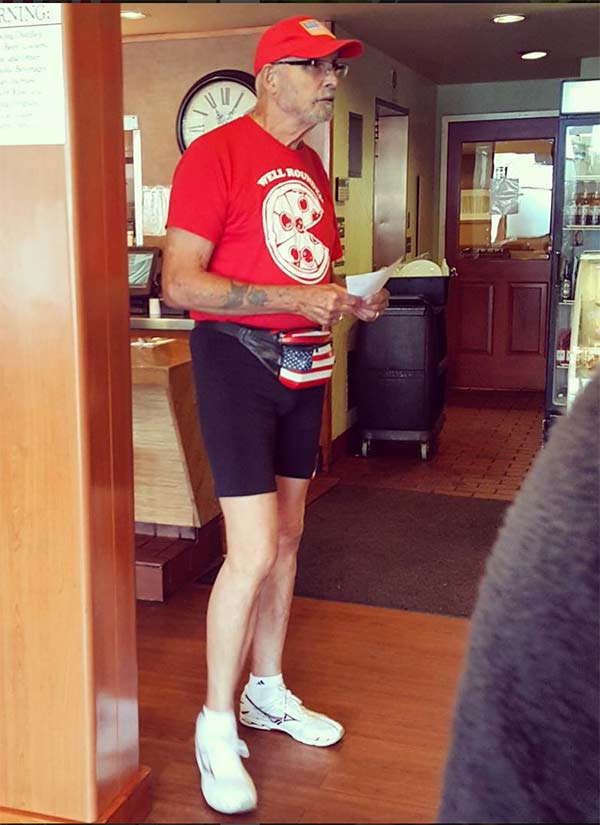 Hey wassup hello! Today I am showing off my newest look — the #TropQueen! It's so simple to pull off but amazingly urban-meets-island chic. Just pair a classic #CargoShort (mine are from #OldNavy with a bright #Hawaiian blouse and a sassy Tevas sandal. It's perfect for vacay or just brightening up a gloomy Monday!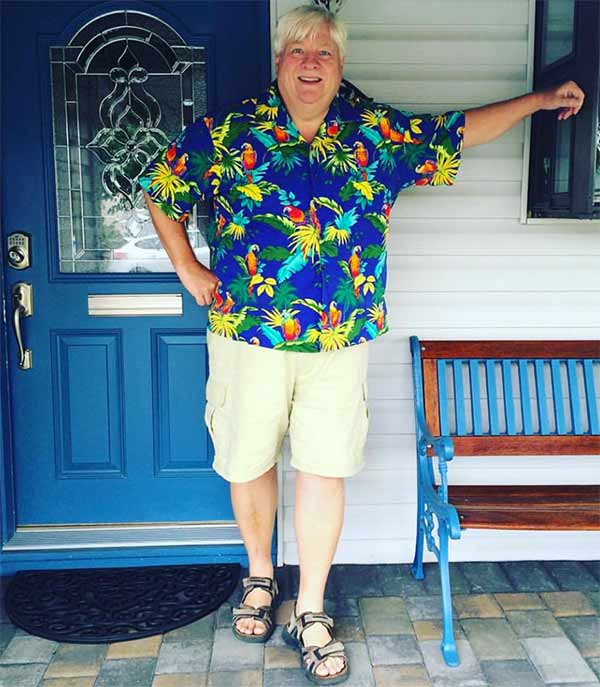 I am so excited to share #SaturdayStyle with you guys today! Whole Foods is a perfect place to test out new looks and see how many heads you turn. Today I'm all about comfort and couture, wearing a navy #StJohnsBay tee tucked into gray #Russell athletic shorts with lime green accents, chic #Prada fedora, and my favorite accessory: a fanny pack worn as a crossbody bag! But the real hot topic is my footwear–classic white #NewBalances with a mid-calf Nike sock. You CAN mix brands as long as you do it with confidence!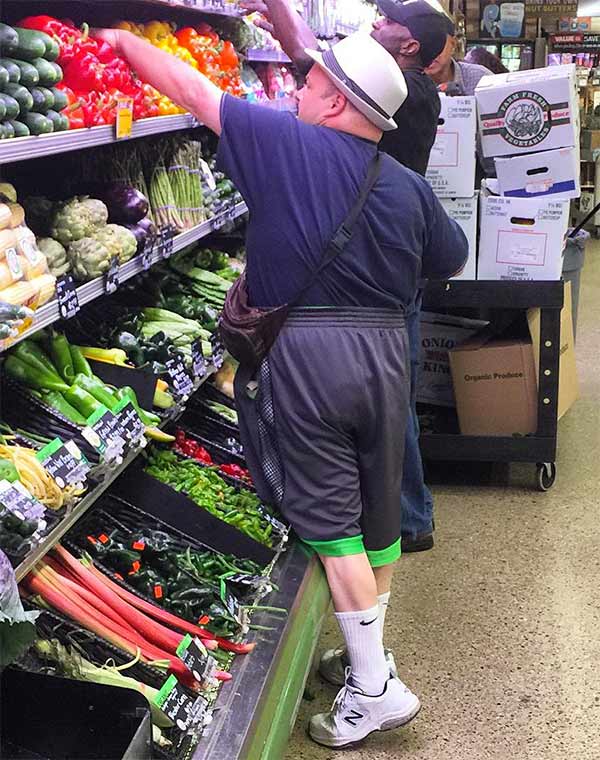 B-E-AUTIFUL DAY out here on the driving range!! I am squeezing in a couple buckets of balls before I hit some late #NYFashionWeek shows. When the sun is out I like to maximize skin exposure to catch those final rays before winter! That's why I chose this mint green crop top from #Forever21 (nothing wrong with the occasional shopping in your daughter's closet) paired with classic #Gitano white jean shorts. It's ok to wear white after Labor Day as long as you wear it with confidence hence the white hat too. A comfy pair of #Teva sandals and a thin yellow alligator belt make this outfit complete and ready for a day on the #CoutureCourse.
I know you all have been eagerly anticipating my /react-text #LaborDayLook, and the wait is over! I decided to mix it up from my usual all white ensemble and do something super trendy and a little risky — camo + floral!! I love #MixingPrints but you HAVE to know how to do it right. I chose this vintage #Aeropostale camo cargo short and paired it with a stunning button-down from the #MarshallsMaui Collection. The trick to pairing these very different patterns is tying it all together with chic, neutral footwear — a simple white tube sock and black #KSwiss sneaker does the trick and looks fabulous.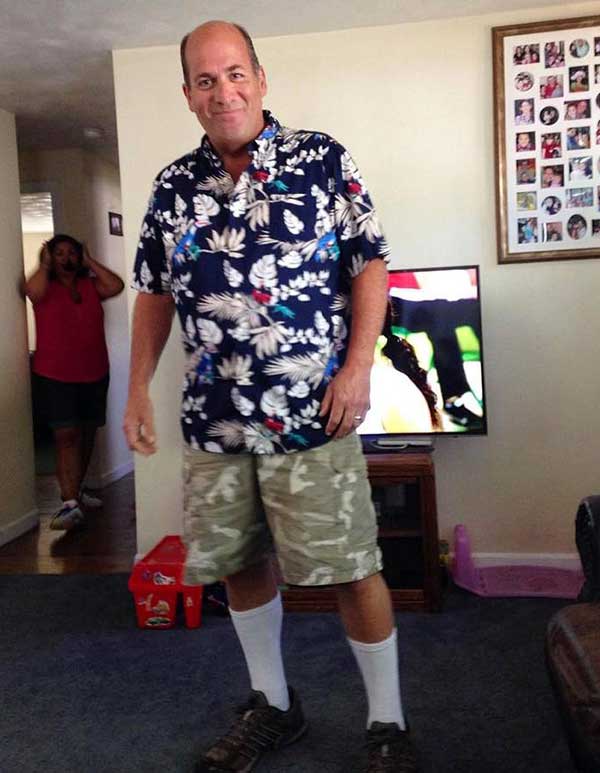 Welcome to Italia! When I'm #JetSetting, I always show off my signature style: #CoutureMeetsComfort! For bee-bopping around #Florence today, I chose a #Burberry polo with a chic pair of high-waisted #ChampionForTarget training pants. For footwear, I'm sporting my FAVE #Gucci sports loafers (with extra / #ArchSupport, of course) and a #Prada #ManPurse FTW. As if I even need to tell you, yes that's a #Rolex and #Cartier shades. They don't call me the #AsianVersace for nothing!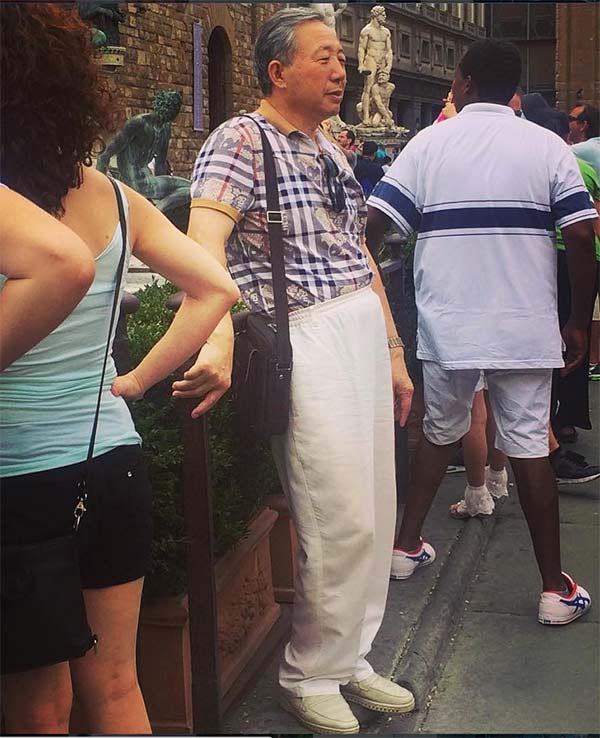 Sundays are for two things: Chores & couture! I love getting things done around the house but I never let my fashion falter! Today while crossing items off my #HoneyDoList, I chose a high-waisted #Champion short with a stunning blue top from #IsaacMizrahiForTarget. To complete this look, I'm wearing vintage #Asics sneakers and a #TommyBahama #PanamaHat (they are so on trend this season!).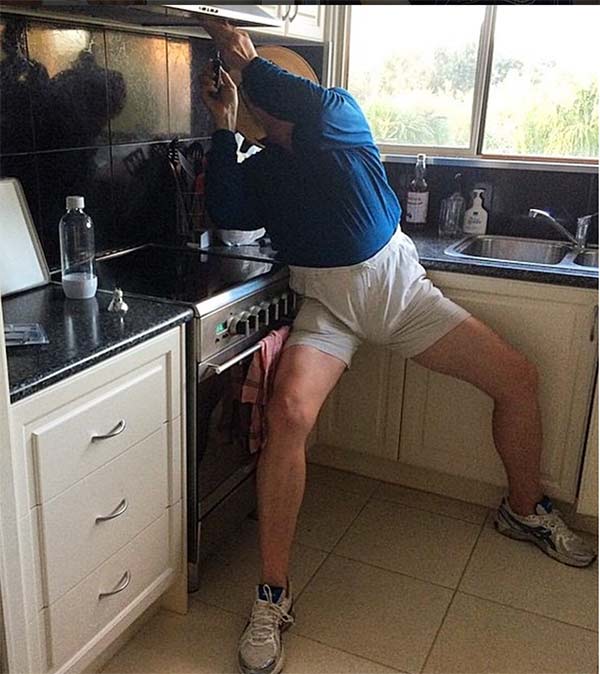 I know how much everyone loves my #AirportFlow so here's another #OOTD for you! After a long but ahhh-mazing trip to #Cali, I'm boarding the red-eye back home to #NewJersey but can't slack on style. There is truly nothing more timeless to travel in than a swishy #TrackSuit with a deep V-neck. It may look like #Adidas but I got it at #Kohls (sssshhhh ;).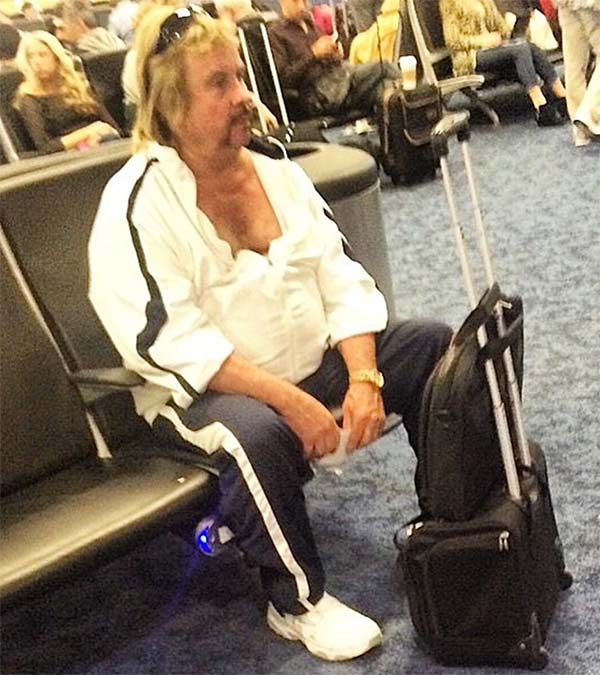 Omg is it spring yet?! The weather is so unpredictable in #Newport this time of year, layers are so crucial to your personal style! Today I paired a subtle camo cargo short from #Aeropostale with my patriotic #BlessedAsBuck t-shirt and my vintage #LululemonMen hoodie. To complete the look, a neutral #SafariHat and rugged #NewBalances with a low-rise #Champion sock. #OOTD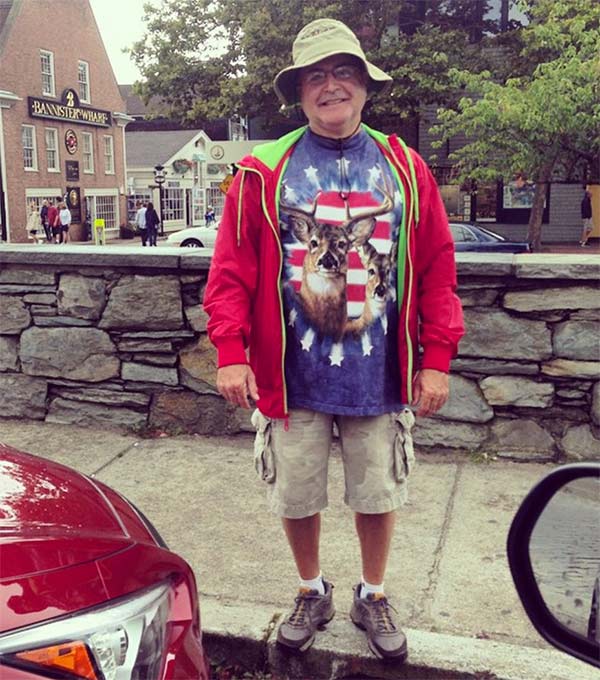 #FitnessFashion is truly one of my passions. Today I'm going on a cardiovascular jog with Mr. Doodlebear and sporting some of my fave gear– #Champion basketball shorts, reflective fashion vest from #BassProShops (you can never be too safe even in daylight!), custom designed compression socks, and my #Saucony #LightningAirShockFusion limited edition sneakers. My #iPhone4S and #Aiwa earbuds really tie in the whole look and I'm ready to hit the pavement!!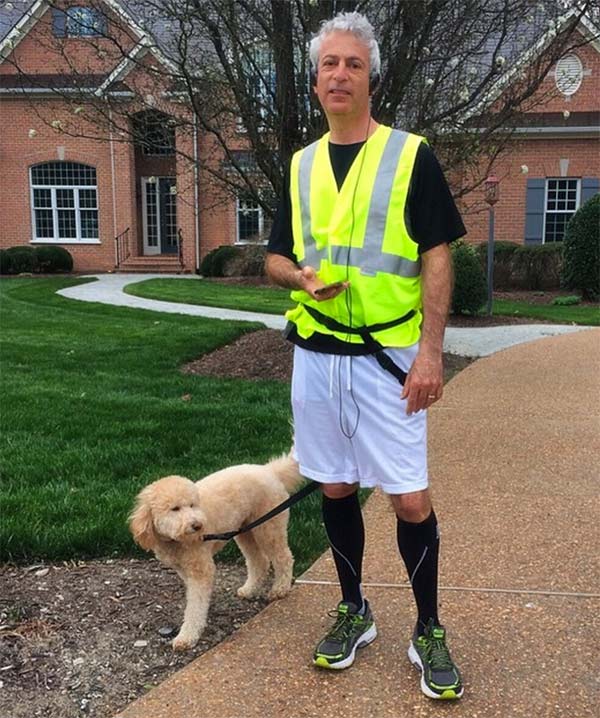 It's my favorite holiday!! I absolutely LOVE #StPatricksDay because of all the bold fashion choices you can make in various green hues–it's such a versatile color! Today I'm heading to a photo shoot on the hog and chose to wear my lime green tux jacket with the satin accents paired with a simple green #CalvinKlein panty and a military green sock. I wish my helmet was green but you can't always have everything you want in this industry!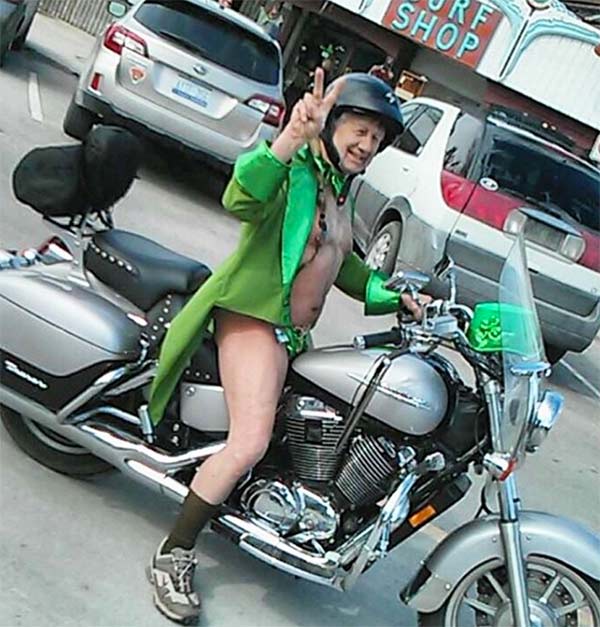 It may be freezing in many parts of the country but here in #Florida, we have beautiful weather and opportunities to show off our #SpringStyle year round! Because it is a little chillier today, I paired a classic #LLBean utility #Oxford with my army green #Soffe shorts. To keep with the winter-meets-summer motif, I'm wearing white crew socks with my #Teva sandals and completed the look with a stunning #SafariHat.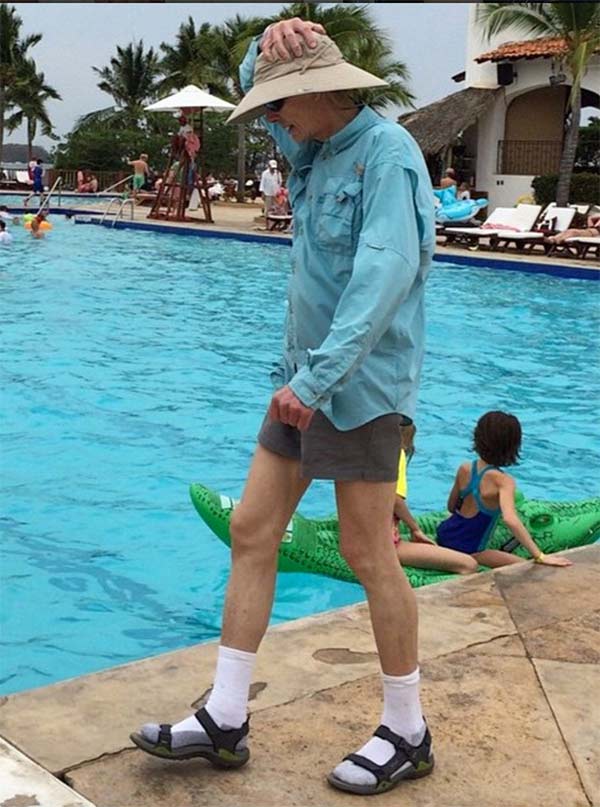 With all this cold weather, it's important to stay warm and still stand out! When walking your #BFF, you have to make sure both of you look AMAZING!!! No better way to do this than matching #EddieBauer plaid! I paired this with a #Wilsons pleather jacket and my favorite #KennethCole AP (all-purpose) loafers.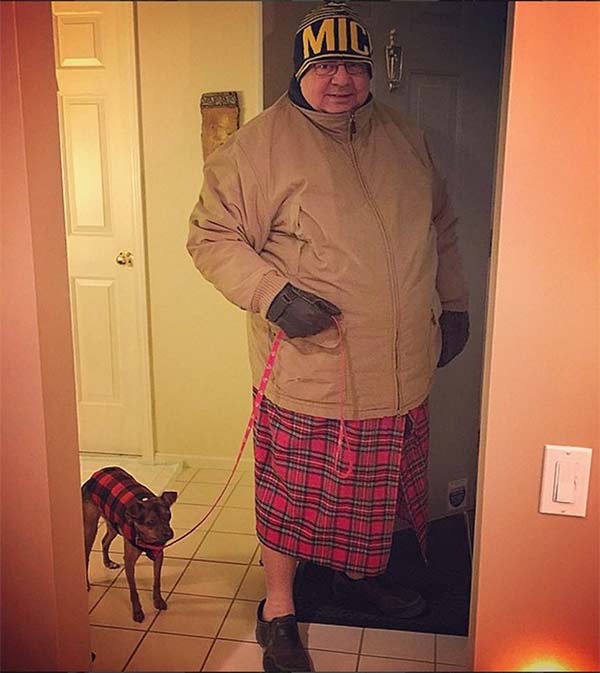 It's #FashionRiskFriday! My favorite day to mix it up with something I may not wear otherwise. I love this classic #Speedo paired with a white #CalvinKlein tee (from #Marshalls), black #Reef flip-flops, and my #Casio timepiece. I'm ready to work in my home office and may even mow the lawn later if the weather warms up!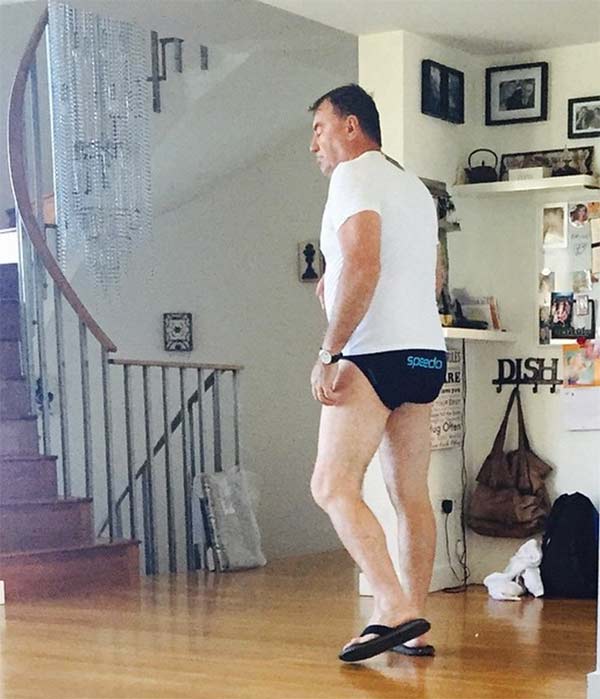 #Mondays are tough on everyone but like I always say: If you dress to impress, you'll see success! I kept it colorful with this printed pant from the #LMFAOPartyRock collection at #Kohls, a matching #TommyHilfiger polo, a chocolate brown golf cap, and my #Clarks penny loafers. I'm feeling confident, cheerful and ready to take on the week.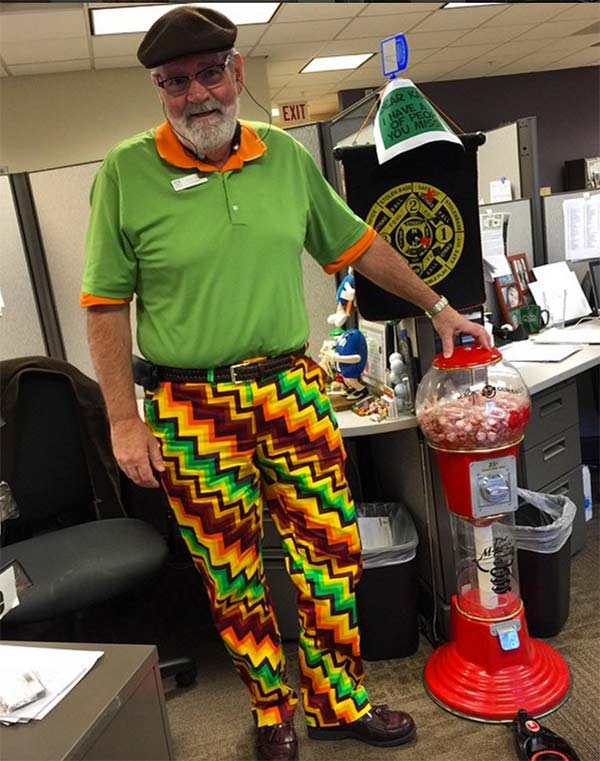 In every sibling relationship, one is blessed with more style than the other(s). Consider it your calling to help those in need on this #ChristmasDay. I paired this gingham shirt from #NordstromMensShop with black #AGjeans and #Chucks for a hip, laid-back feel. My brother is wearing a vintage #Aeropostale plaid with #WranglerJeans and brown all-purpose shoes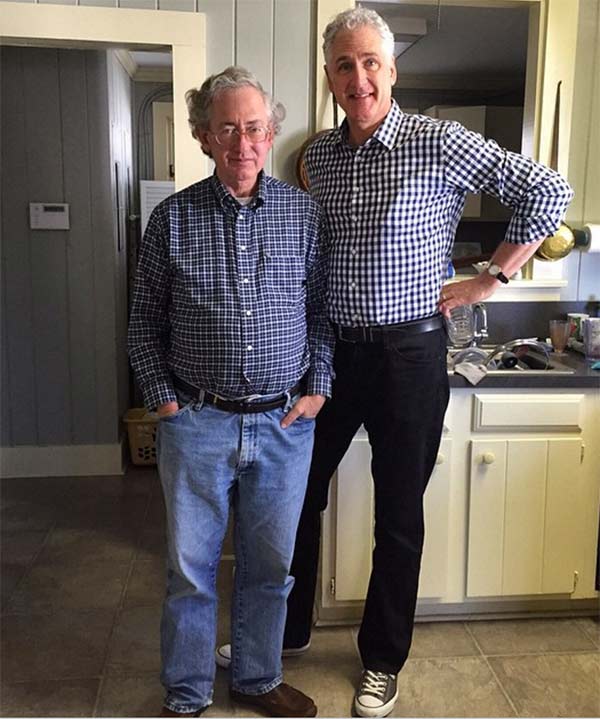 Confidence. If you have it, you can make anything look good.' –DVF. Went shopping @dianawarner tonight and LOVE LOVE this new orange sweater matched with a baby blue khaki short. Great for early spring outings and dinners. If you pair it with a long gray sock, it is money.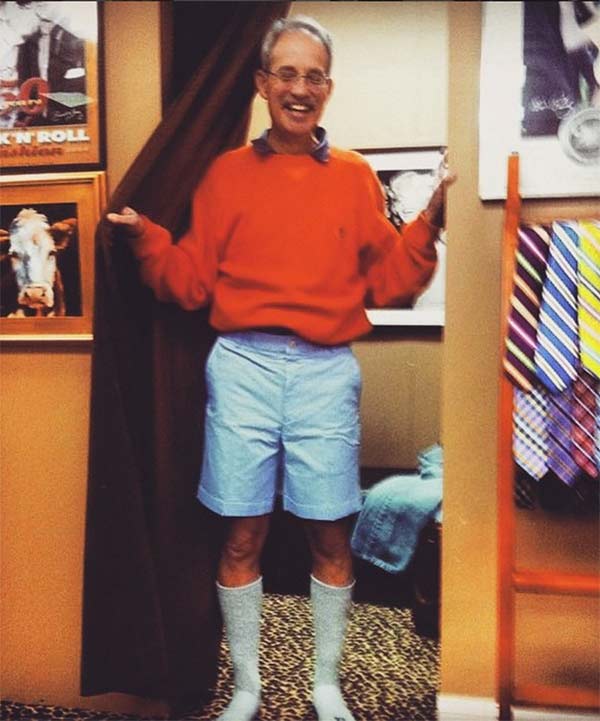 Sunday nights are for grilling… and most importantly, grilling in style! Tonight, I'm highlighting a VERY special item in my wardrobe and I hope you guys will love it. Yes, this is a fur kilt and they are ALL the rage on the runways right now (even faux). They are so trendy, give me great mobility, and are surprisingly breathable in this hot weather! And the wide black waistband is both sassy and slimming. I paired this #StatementPiece with a bright yellow #Columbia fishing shirt and classic #Asics trainers for a chic but approachable look, perfect for the weekend. And now, time for some feasting in fashion!